Via twitter… I hate it that folks can post things without providing links to their source material. So here is a link. Comparing international trends in recorded violent crime. Courtesy of the Australian government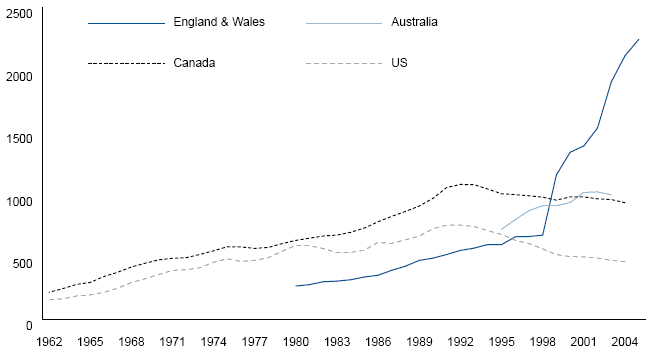 It is interesting to note that the law virtually outlawing private handgun possession in the UK was passed in 1997. Given the rate of increase that the violent crime went through in the years after that, do you think it was a success?
Of course things in the UK got a bit better after 2005 – if they had stayed on that trajectory it would have been crazy. You can find numerous article extolling how the crime rate decreased (marginally) in the years after 2005.
And the UK does have one of the lowest rates of GUN homicide. (That data is easy to find – they shout it from the top of Wikipedia at every chance available.)
The way the UK Home Office reports crime statistics has me bamboozled. I am currently wading through "detection rates" which basically means "cases closed" but I can't find rates on crimes recorded or occurred. I also can't find anything except "crimes against the person" which I take to be all kinds of assault, lethal or not. If I can figure out their overall murder-rate, I will either update this post or post another entry. Gun-crime is usually a smoke-screen. In this case it almost certainly is, because if violent crime increased that much since 1998, I would guess murder went up as well. And it doesn't matter to the victims if they were shot, stabbed or bludgeoned, it only matters to the folks producing the statistics.